November 10th, 2011
Digifest came and went. It's been a busy couple of months; I've spend nearly every other week getting ready for a show. Now it's time to buckle down and get to work. The next show will likely be in February.
October 7th, 2011
My SoOnCon presentation at TIFF Bell Lightbox went very well. Brad and I delieved a speach that was very well recieved. The general attitude was that this is a subject that bugs everyone, everyone gripes about it privately, yet no one talks about openly. "Why People Hate Art" is a talk that I would very much like to give again. It's an idea I want to keep running with.
After leaving SoOnCon, a very tired and grumpy Kyle headed out to see some Nuit Blanche. In my opinion, this year's Nuit Blanche was a let down. But it was also very informative. I think Brad and I are recharged and ready to put together something appropriate for next year.
The next big show on the horizon is Digifest, which will be taking place near the end of October. More details regarding that will emerge shortly. Take a Picture.
September 17th, 2011
The opening of New Biology at Toronto's  Moore Gallery last week went well. Thanks to all who came out to the opening. It was very nice seeing all of you again. For those of you who were unable to make it to the opening, don't worry; the show runs until October 1st. There is still time to see it.
I wish I could say that with New Biology out of the way, I can start relaxing, but that's not true at all. I've got a lot more happening this month. Take a Picture will be on display at the TEDxToronto afterparty, which is happening on September 23rd. I don't have to push this event too hard, since the tickets sold out quite a while ago. After TEDx, I will be giving a 30-minute talk at SoOnCon, the Southern Ontario Hackerspaces & Makers Mini-Conference, which will be held at the TIFF Bell Lightbox. I'm really excited about these events. There are some good speakers lined up, and I really hope I get a chance to see some of the other presentations.
September 9th, 2011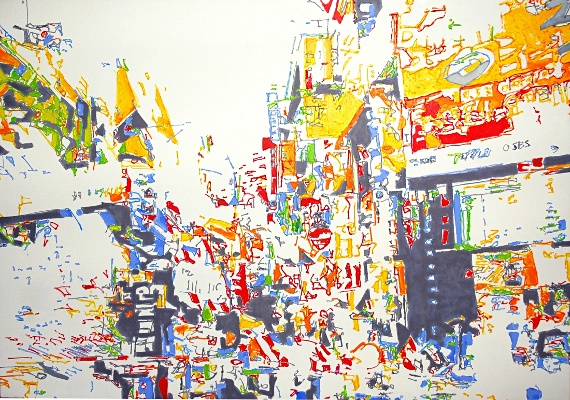 New Biology, a show of emerging artists being held in Toronto's  
Moore Gallery
 opens Tomorrow. I am proud to announce that several pieces from my "Urban Landscapes" series (including the one pictured above) will be on display.
The opening reception is being held tomorrow, September 10th, from 2pm-4pm.
The show will be open until October 1st.
Moore Gallery is located at 80 Spadina. There is a 'Green P' parking directly beside the building's South side.
August 22st, 2011
I am proud to announce that the silent auction at Site 3 Co-laboratory was a huge success! The turnout was fantastic, lots of pieces sold, and a good time was had by all. Not bad, considering this was my very first time organizing and running a silent auction. I was fortunate enough to have had a great team behind me. Thank you to all who came out and helped make the event the success that it was.
I can't believe how close it is to September 10th, the opening of "New Biology", a group show which I am participating in at Toronto's Moore Gallery. I can't wait!
July 8th, 2011
I recently delivered a couple of paintings to Moore Gallery for a show in September. I remember going to this gallery on field trips with my high school art class and having my mind blown by the calibre of art that was hanging on those walls. Knowing that my work will soon be included on that list of artists to have shown there is indescribable. I am looking forward to this show.
I will be helping to organize a fundraiser auction at the Site 3 Co-laboratory in Toronto on August 20th. This is a good chance to see some of my work (and the work of many others) and maybe pick up a piece or two at a great price.
I normally try to keep this website more on the minimal/professional side, but I just couldn't help myself, I was playing around with javascript, and I made an online version of an old program I wrote years ago: An Automatic Artist Statement Generator. I also wrote about this project's background on my blog, and posted the project to reddit for those who are interested in my motivations behind writing this program.
June 1st, 2011
I've spent the last few weeks locked in my studio, painting some brand new large Urban Landscapes. I should be posting some new work in the near future.
For most of June, I'll have six paintings on display at Kwartzlab, along with some of Alex Leitch's fantastic black-lit acrylic birds. If you happen to be in the Kitchener area, you might want to swing by and check it out. The show seems to be getting some attention from the media; on Monday night, I gave a 10-minute radio interview for "Monday Night With The Arts" on FM 98.5 CKWR.
May 13, 2011
Toronto's Mini Maker Faire was great. Thank you to everyone who made it out last weekend. The feedback was very positive. Watching a person's face light up a they figure out how our project works makes my long hours and lack of sleep very worth it.
The invisible paintings have been returned to Site 3 Co-Laboratory . If you missed your chance to see Take a Picture at Maker Faire, don't worry, you can come by the shop any Thursday evening during the open house. Site 3 is located at 718R Ossington, which is on the South-West corner of Bloor and Ossington.
I uploaded 3 new paintings to the Urban Landscapes gallery yesterday. Now that the excitement of showing my work is over, I can get back to producing new art.
May 1, 2011
It's been a while since I written up an official update. Not that much to report, really. Let's see…I have a massive show in a big-name blue-chip gallery on the horizon, The Discovery Channel recorded a segment with Brad and I showing off "Take a Picture", and I've been invited to show at the Mini Maker Faire in Toronto, where I will also be one of the speakers for the round of Lightning Talks that will be happening Saturday evening.
In the last update, I mentioned a photography-based project that I was working on with Brad. I told you to "expect some news regarding that project to be posted here in the near future." Then I never posted anything…my bad. Well, Brad and I self-published our first book, a photo book called Illuminated Landscapes". If you want some details about that project, I have created a website for that project, which can be found here.
In the website maintenance department, several of the older entries in the CV page have been heavily modified All of the images are now displayed on one long page, and I have included some text that explains what I remember about those shows, and what they lead to. If I keep going at this rate, I will never have to do an interview, because anything you'll ever want to know about me can be cut and pasted from my website or blog.
In the mean time, if you could set your PVRs to record The Discovery Channel's Daily Planet this Thursday, that would be great. I don't have a TV, but I wanna see if I made it into the show.
February 14, 2011
I have spent the last few weeks working on a photography-based project with Brad. Expect some news regarding that project to be posted here in the near future.
Once again, I have been making some tweaks to the website. The Gallery page has been made simpler and more intuitive, for those wanting a quick glance at my work, everything is up front and easily accessible. For those wishing to dig deeper into my work, clicking "more" will bring up galleries showing my complete artistic output, arranged chronologically.
I am also working on modifying a few entries in the CV section.
January 20, 2011
My painting practice has been on the back burning this past month while I prepare for the third showing of the Take a Picture project.
It will be held this Saturday, January 22nd.
The Toronto Burning Man Group is putting on a big event. Part art show; part party; all awesome. Tickets to this event are $25 at the door, but if you order your tickets in advance, (which can be done by clicking here) they can be had for only $20. (well, $22.19, but it's still a savings compared to what you'd pay at the doors.) The event starts at 7pm, and goes until 4am